Left to my own devices, I could spend a good deal of time immersed in new studies of renewable power and energy efficiency, announcements for which land in my email box or turn up on my Twitter feed almost daily.
As Marilyn would undoubtedly have done were she still here.
But even without her, I received two this week that underline current efforts to quantify the value of green technology within our existing economy specifically in terms that will make sense to financial institutions, investors and policy makers.
The first, from Bloomberg New Energy Finance and funded by energy giant, BP, aims to set out a method for comparing coal, oil and gas reserves with renewable reserves, an effort emerging from an industry group called the Renewable Reserves Initiative. BP is apparently a leading member.
The study points out that renewables constitute an increasing amount of the world's primary energy — that is the underlying energy sources needed to generate the electricity required to power the world's economy. In 2010, renewables accounted for 13 percent of primary energy, a figure expected to rise to at least 20 percent by 2035, according to the International Energy Agency.
"In spite of this, the world still lacks a widely-agreed upon methodology for comparing renewable energy projects with each other, and with fossil fuels. The increasing popularity of renewable technologies presents a challenge to companies, governments and investors more used to thinking in terms of finite fuel reserves," the Bloomberg report says.
What the powers that be need, the report says, is a method that will nail down the "total quantities of energy achievable" from renewables. While clearly stating that its results are intended only as an initial, hypothetical model, the report shows the challenges of comparing finite fossil fuel reserves to inexhaustible renewables.
For example, while daily output from an oil well tapers off over its productive lifetime, the output of a wind farm, an example used in the report, while intermittent, remains stable. Another point of inequal comparison is that fossil fuels, once out of the ground may not necessarily be used to produce directly usable power; renewables for the most part are.
The Bloomberg report proposes going at the problem by looking at the financial viability of projects, comparing proven fossil fuel reserves with wind and biomass projects either in operation or likely soon to be, and converting the total energy output of renewables into an equivalent measure of barrels of oil. Again, for hypothetical purposes, the report provides results from the U.S. and Brazil.
In the U.S., as might be expected, wind and biofuels are dwarfed by coal and natural gas reserves, but together exceed oil. Wind reserves are calculated at the equivalent of 23 billion barrels of oil, while biofuels come in for 26 billion barrels. Oil stands at 31 billion barrels.
While the numbers might seem to still favor fossil fuels, it is encouraging to remember that the renewable resources will continue to grow while fossil fuel reserves are finite, and the report doesn't touch solar and geothermal potential or compare the social and environmental costs of  fossil fuels vs. renewables.
The U.S. is also a mature economy compared to an emerging economy such as Brazil where the report shows biofuel reserves at the equivalent of 28.6 billion barrels versus 22 billion barrels for coal and 15 billion barrels for oil.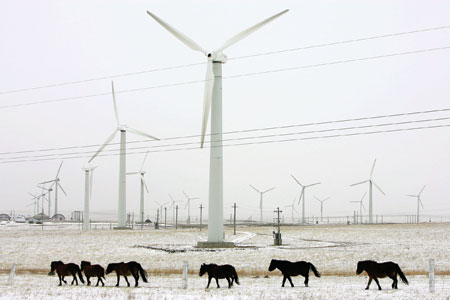 Such numbers indicate the kind of global shift toward renewables that may be occuring — another report from China this week showed that new wind generation exceeded new coal-fired power in the country for the first time last year. The fact that fossil fuel companies such as BP are attempting to quantify the potential of renewables speaks volumes in and of itself.
The second study strikes a bit closer to home, literally, speaking to ongoing efforts to qualify the economic impacts of energy efficiency for homeowners and mortgage lenders.
Funded by the Washington, D.C.-based Institute for Market Transformation, a nonprofit promoting energy efficiency, researchers from the University of North Carolina found that energy efficient homes were 32 percent less likely to go into default than standard homes.
Using a national sample of 71,000 home loans drawn from CoreLogic, a leading source of information tracking for the lending industry, the study compares default risks for standard homes with homes that earned an Energy Star rating, meaning they were at least 15 percent more energy efficient than a standard home.
How to define standard versus Energy Star is based on something called a HERS rating, which stands for Home Energy Rating System. A standard home, presumably one meeting the building code for any specific state or jurisdiction, is rated at 100, with energy efficiency lowering the score. An Energy Star home typically earns at least an 85 HERS score.
The study was carefully designed to weigh and balance for a range of variables. The homes chosen for review covered 38 states and the District of Columbia and included both older and newer single-family homes with prices averaging about $220,000 and 30-year, fixed-rate mortgages originating between 2002 and 2012. That is, the standard homes were not all old and in ill repair and the Energy Star homes were not all new and upscale.
California was one of 12 states not included, apparently due to privacy regulations and address inconsistencies.
Not only were Energy Star homes 32 percent likely to default, but the researchers found that the more efficient the home, the less likely it was to default or prepay its mortgage, which banks don't like as it cuts into their profit.
The default rate for Energy Star homes was about 8 percent, compared to 15 per for standard homes. About 23 percent of Energy Star homes prepaid their mortgages vs. 33 percent for standard homes.
Such results suggest that mortgage lenders should "require information about energy costs and encourage an energy audit or energy rating during the process of mortgage underwriting," the report says.
It also recommends that financial institutions – specifically major home mortgage lenders Fannie Mae and Freddie Mac –take into account the higher value of energy-efficient homes to provide "the underwriting flexibility needed to cover the modest additional cost of energy efficiency features."
Translation: Provide better and more affordable financing for middle-income homeowners for home energy retrofits. Energy efficiency pays for itself and will prop up, not hurt, the housing market.